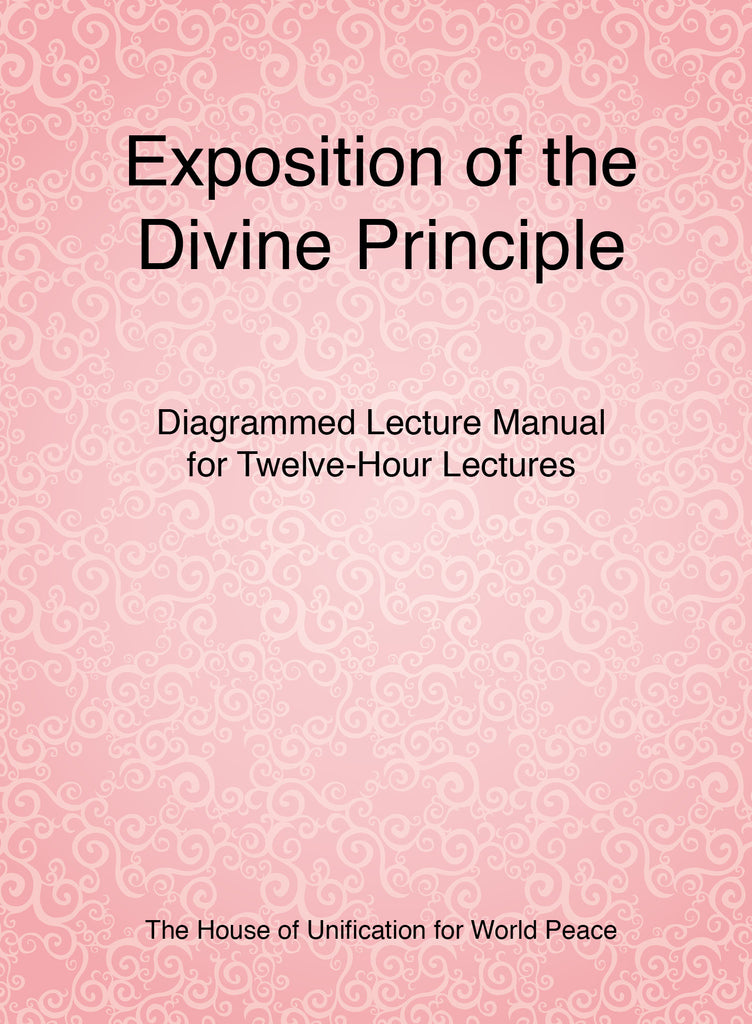 Exposition of the Divine Principle: 12-Hour Lecture Manual
The largest and most complete of the three Manuals was developed by Mrs. Gil Ja Sa Eu and is now available for distribution in the United States by arrangement with the House of Unification for World Peace. During his popular Morning Devotion online series, Dr. Chung Sik Yong, Regional President, Family Federation North America, and National Co-chair, ACLC, has stressed the remarkable success in a life of faith from using this Twelve-Hour Lecture Manual.
Rev. Moon's Guidance on the Diagramed Lecture Manual
The lifeline of our members is to live according to God's word. You have to nurture and develop your own life. The Church cannot do it for you. What I have been emphasizing is to lecture, absolutely, using the Divine Principle. If you learn the Principle just by listening to lectures, it is difficult for you to convey your understanding at home or other places.
When The Divine Principle was being written, I directed everything. I had it written because fallen people need something to study. This book must be valued. There is no need to sermonize. Give lectures completely centering on the book. If you grasp the essentials, you can speak at ease. If you continue to use the book, in four years you will be way ahead of those who did not use the book. If the Principle of Creation takes three hours to lecture, for instance, write down a 15-minute summary of it. Underline that portion of the book in red and read it. Create diagrams for it and mark each part with the corresponding page number. Use diagramed manuals for lectures.
If you are educated with God's words, and your direction firmly set, you will be determined to move forward toward your goal no matter what. If you try to lecture from bare memory and yet have no confidence, there will be no spiritual connection. Is it easy to speak on stage? That is a big job. You may start digressing, talking about everything under the sun. In contrast, if you are trained to make it short, you can go with the diagramed lecture 1 and then lecture 2 when you are confident.
424 pages 
7 x 10 x .86 in
22oz
Paperback
---
Share this Product
---
More from this collection